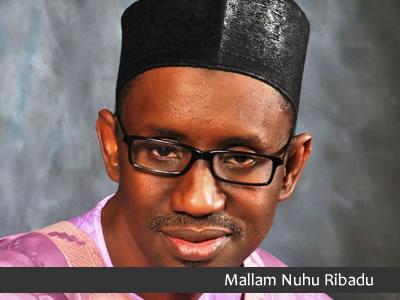 Chairman of the Petroleum Revenue Special Task Force, PRSTF, Mallam Nuhu Ribadu has said data and information contained in the report submitted to President Goodluck Jonathan are not accurate and unverifiable.
Ribadu and the Secretary of the Committee, Olasupo Shasore in a letter to the Minister for petroleum Resources, Mrs. Diezani Alison-Madueke after submitting its report said due to time frame, the committee could not verify all the data and information contained in the report.
Former Head of Service, Chief Steve Orosanye had accused Ribadu of adopting "flawed Process" in arriving at the final reports and not abiding by the resolution of the Committee that the leaked draft of the report be jettisoned or verified for factual accuracy Ribadu fired back accusing his Deputy of not attending meetings.
Both men had a verbal exchange before a shocked President Jonathan during the submission of the Report last week.
The assertion made by the committee in its letter has further made the report unenforceable and confirmed some members argument that the submitted Report is merely a "draft" copy.
The 24-member committee were said to had tongue-lashed Ribadu over the leaked draft report, which they claim contained unverified facts and figures and as such, requested he publicly disowns it as not that of the committee A member of the committee who spoke on condition of anonymity to pointblanknews.com said the report, which was in circulation, was not a certified true copy as all the facts and figures were not verifiable.
"We were shocked to see copies of the draft report. The crux of our meeting today was on the leaked draft because most of the things in the draft are not accurate, factual and not verifiable."
Sources hinted that after the June meeting of the group, it was agreed that they meet again before the document is put to finality but "that meeting never held, Ribadu and Shasore kept the draft and we were shocked to see it in the media through Reuters and other social media organs.
"Ribadu likes grandstanding, he has used that to win gullible members of the public to himself for too long and that is what we don't want to see in this very important assignment we have before us," the source said.
According to the source, we had agreed after June to meet again and harmonize, verify grey areas in the report, we agreed to continue our investigation and do a thorough job, we agreed to reconcile every part of our findings and we agreed to meet again and do the final copy after all findings and facts have been verified. That was the last, we never met, Ribadu never showed up, only for the draft to surface in the media."
A member of the Committee and a Senior Advocate of Nigeria, SAN, Chief Anthony George Ikoli in a newspaper interview recently, alleged, "the committee's assignment is factually yet to be definitively concluded."
See Letter below